GOLFERS PACKAGE
ALL INCLUSIVE CFI GOLF PACKAGE
( Boca Resort )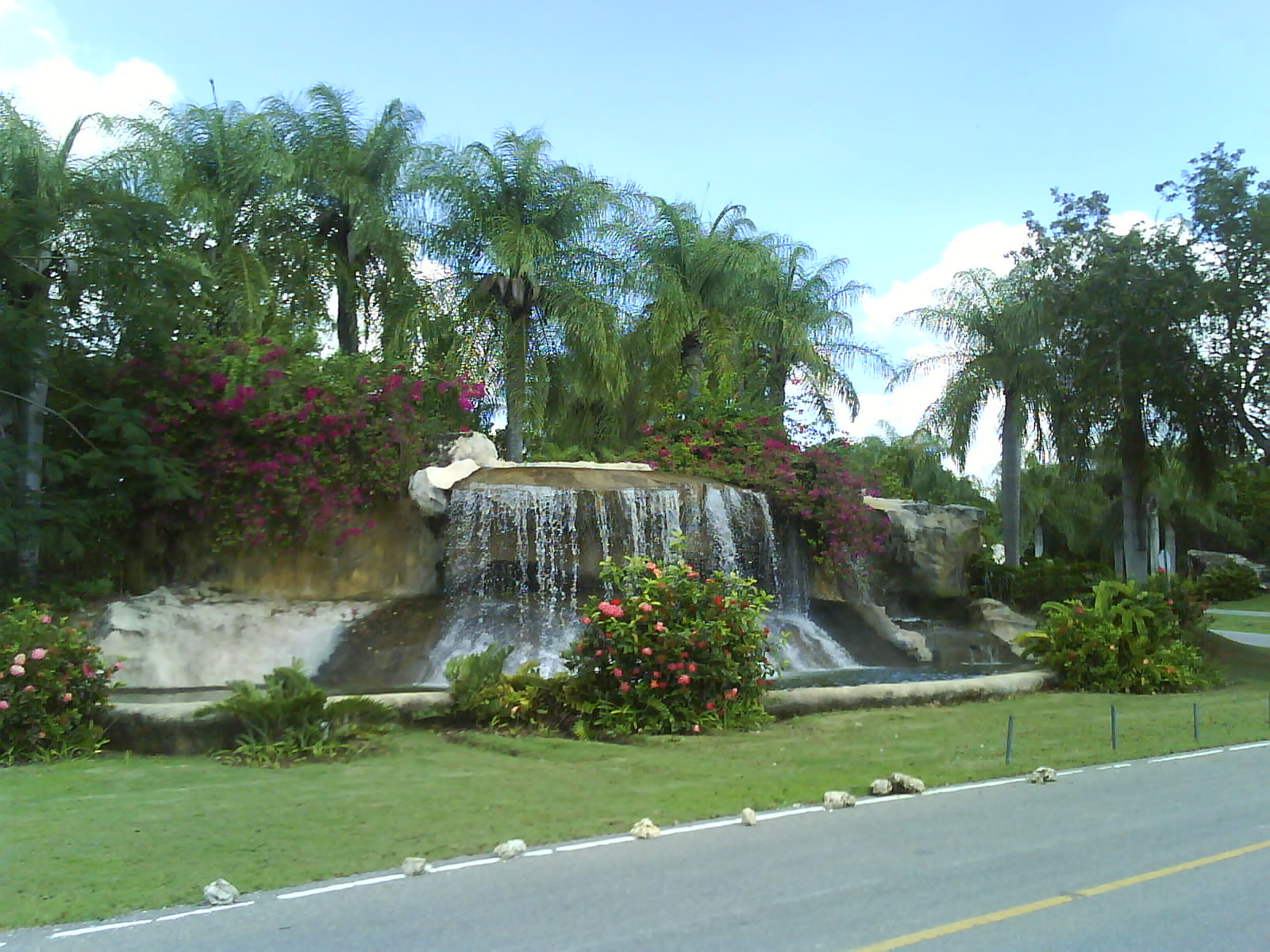 Hola,
Welcome to the CFI Golf Package page.
No, we haven't forgotten about our golfing enthusiasts, in fact we have designed an exclusive package  just for you.  In the past we have had so many golfers stay with us and ask us to set up golf outings that we decided to include a golf oriented package just for them and so far we have had nothing but positive responses about their experiences.   What better getaway than to play all day on one of the top golf courses on the island and then spend the evening  surrounded by beautiful island girls catering to your every whim.
Your adventure begins at the airport, where you are met and escorted to your hotel.  After check in, you are introduced to your preselected hostess, who will be at your side during your entire stay and even accompany you to the golf course, should that be your desire.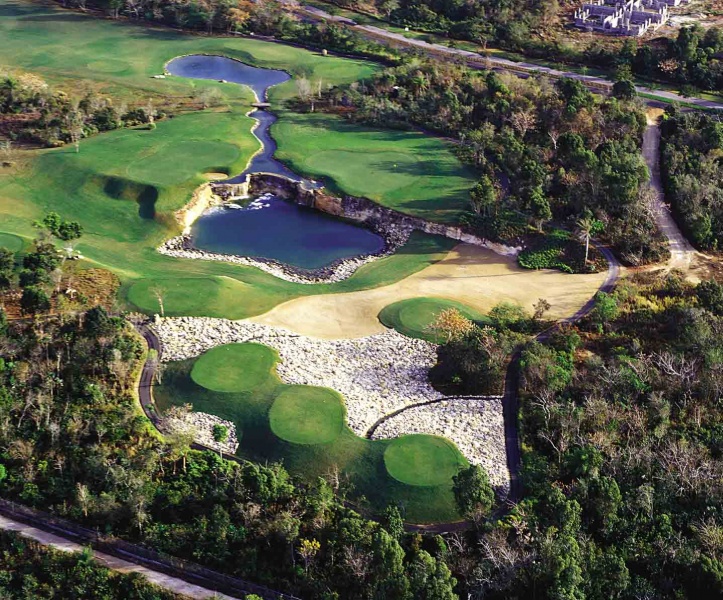 WHAT IS INCLUDED IN THE GOLF PACKAGE?
Our regulars call it the Drive and Dive Package.
( Drive all day / Dive all night. )
Basic Package
Pick up from Santo Domingo Airport  (SDQ ) and return, in new air conditioned 9 passenger van ( WIFI Equipped )
Accommodations for 4 days and 3 nights ( ALL INCLUSIVE ).
CLICK HERE TO SEE ROOMS.
Additional nights may be added, just call for pricing.
All food and drinks at hotel, plus food and drinks for your hostesses' as well.
CLICK HERE for menu.
Free Cable and WIFI.
In room safe and refrigerator.
24 hour use of "on site" pool. ( Skinny dipping not just allowed, but encouraged ).
Room service.
King size beds.
Hostesses' included 24/7
All hotel taxes.
Safe and secure facilities.
Young, beautiful, seductive island girls as your hostess and companion.
Personal driver to and from the golf course for each of your 3 days of golf.
( Two different courses. )
3 Green fees with cart, clubs ( if needed ) and professional caddy.
TOTAL PACKAGE COST  $2,995.00 per person.
Discounts for return guests.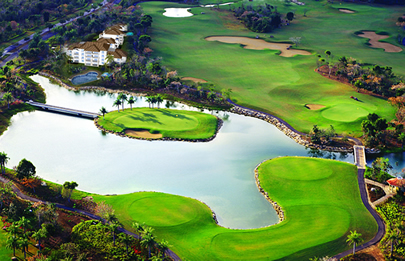 FOR MEMBER PASSWORD TO VIEW YOUR OPTIONS FOR  HOSTESSES'.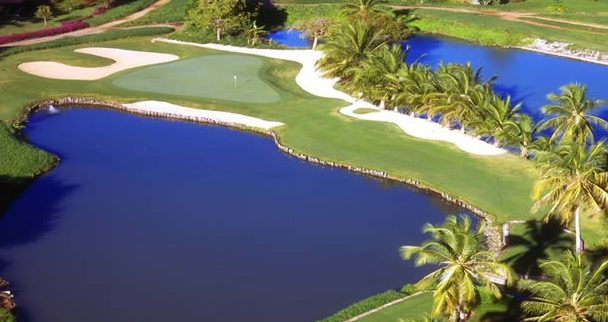 Those are a few of the comments you'll hear as you play your way around Guavaberry Golf and Country Club on the sunny southeast coast of the Dominican Republic.
The Gary Player Design team has really outdone itself this time, creating not only a golf course but a landscaping marvel. They've blended the course design flawlessly into the existing natural environment, giving the impression that the links have been part of this gently-rolling, tropical terrain from the beginning of time.
Guavaberry will challenge you with its impressive waste bunkers, deep sand traps, and indigenous coral rock formations that rise up from lush fairways. Together, they make this a course not to be tamed easily.
And if the natural hazards aren't tricky enough for you, the ever-present Caribbean breezes and five different tee positions that cater to every level of play will tempt you to come back and try to conquer Guavaberry again and again.
The 13th hole comes as a refreshing surprise with its waterfall cascading into a quarry pond. Brace yourself for Hole 15 where a three-acre pond surrounds and protects the green from your best shot. And save some strength for the arduous 18th!

This beautiful 7,156-yard par-72 course is sensitively blended into the landscape bordering a tropical forest and nature preserve. The course is as beautiful as it is challenging.
The black championship tees offer the greatest challenge. There is a 936-yard difference between the middle white tees (11-20 Hcp) and black tees (scratch golfer) — the sight lines are quite different and the penalty for missing a landing area can be quite ruthless.
There are a few holes that require some sharp, short iron play to avoid a big number and still others that offer birdie opportunities. The greens are quite true for such a young course and, as is the case with courses in this environment, they should become even more consistent with time.
If you get hot with the putter you can score well here. Failing that, you'll need to hit a straight shot. There are some forgiving fairways; however, in width and reach, this course is a ball graveyard for the scatter golfer and will only become more so as the flora matures.
Hole 6, for instance, has trees growing in on the right side that will eventually change the view from the tee and also affect the sight lines for the approach shot.
With the splendor of the tropical flora, blue skies, and consistent Caribbean breezes, this is a highly enjoyable course to play. It caters to every golfer's whim with five sets of tees, smartly-crafted waste bunkers, and some inviting looks that seem to inspire the golfer to take a shot at scoring on every hole.
Watch out for the coral rock formations, especially on Hole 9. Also, notably, the closing 18th has a massive coralline garden on the right flank with the fairway tilting precariously in that direction as well. Its exposure to a strong and steady ocean breeze pushes even a straight drive to the right.
This ending hole is a true score killer. Even a strong drive will leave the second shot in question as the direct line to the hole will require an accurate long iron over the coralline corner, through a strong wind and over a protective bunker in front of the smallish green.
There is ample room to the right and back of the green though, indicating Gary Player doesn't have a heart of coralline. This additional room around the green is a consistent aspect throughout the course and invites all players to try to score as much as to play.
Guavaberry is going to be a very fun course to watch grow up, as it appears to have a well thought out designscape.
GREAT GOLF, GREAT FOOD, GREAT COMPANY, GREAT FUN!
OK, SO WHAT ARE YOU WAITING FOR?
GRAB YOUR BUDDIES AND COME ON DOWN TO PARADISE!
QUESTIONS?  CONTACT US ANYTIME!